Second Shift Studio Space is pleased to announce Body ◾ Building the second of five Alt Space popups located in the Minneapolis skyway.
Curated by Second Shift Curatorial Projects and Chris Larson, the exhibition features 7 artists exploring the theme of architecture, bodies, and the relationship between these.
Jaysen Hohlen
Rini Yun Keagy
James Molitor
Galilee Peaches
Karmel Sabri
Emily Swanberg
Li Yijia


August 21st - September 13th
body building explores the relationship between architecture and bodies and how it shapes and informs identity
Gallery Hours Monday 11am-2pm Wednesday 11am-2pm Friday 11am-2pm
Artist Talk and Reception Friday, September 13 at 6pm - 9pm
Alt Space is located at
15 South 5th St
Minneapolis MN
Skyway Level
Suite 250

Take the lightrail to Nicollet Ave and walk one block down 5th St toward Hennepin Ave for easy access to the exhibition.
Paid street and ramp parking available adjacent to the building.
The 15 Building entrance is located along 5th St.




I explore the intersection of the normalization of gay relationships and architecture. The gay rights normative telos has left few trajectories within its imaginary; marriage, the military and sexual privacy. I am interested in how architecture, whose purpose is to both shelter and divide, facilitates these goals and produces precarious outcomes. With my desire for intimacy at the foreground of my work, I explore historic and contemporary cruising landscapes. I record from the periphery by disclosing secluded wooded areas, and anonymous gay-hookup profiles. From this vantage, I find ways to make these cruising structures malleable and speculate on alternative forms of navigation.
Jaysen Hohlen is an artist who works with photographs, installation and archival material. His current work explores geography, digital technologies and architecture in order engage contemporary questions around normativity, sexual privacy and urban renewal. Hohlen has exhibited throughout Minneapolis, including at the Katherine E. Nash gallery, Yeah Maybe and Public Functionary.
James Molitor makes self-portraits in an effort to make sense of their queer history. Growing up as a devout Evangelical Christian in the rural Midwest, religion conflicted with Molitor's identity. Their attempt to resolve this conflict ultimately ended in gay conversion therapy. Molitor now creates self-portraits in environments that reference their trauma. They use long-exposure photography to make their figure blur and bleed into natural settings. This distortion allows viewers to challenge preconceived notions of gender and body specificity. Seeing their body in such historically relevant spaces has helped Molitor understand their present self. They hope others may also find clarity when experiencing these photographs. James Molitor is currently a BFA student at the University of Minnesota Department of Art.
Karmel Sabri is a first generation Palestinian artist in America. Informed by displacement, resistance, and community, her practice stems from a start in community organizing and event planning. As a socially engaged artist, Sabri curates within the community to make space for nuanced representations of Arabs in America. Politics seduce through the aesthetics of resistance and take form in immersive installations, photography, print making, and performance. In 2015, Karmel created the annual Dear Gaza Block Party in Minneapolis which provides a platform for local artists to engage in a public celebration of Palestinian culture in a context that was never imagined before.
karmelsabri.com
Tzolk'in/Count of Days transforms Mexico City's renowned National Museum of Anthropology (built in 1964) into a defamiliarized architectural site inhabited by the ghost-like figures of tourists and workers who move through it. In moments, these figures share the frame with spectral artifacts from the territory's pre-Colombian past, while in other instances, the artifacts burst rapidly onto the screen as ethereal objects in exaggerated color and aliveness. Tzolk'in features the minor Mayan artifacts of the museum's holdings offsetting the spatial design of the building and grounds, which intentionally centralized Mexico's prominent Aztec civilization.
Rini Yun Keagy is a moving image artist whose practice in video and 16mm film is multimodal and research based. Her work investigates race, labor, disease and disability, and sites of historical and psychosocial trauma. She has taught filmmaking at University of California Santa Cruz, University of the Arts, Minneapolis College of Art & Design, and Carleton College.
rinikeagy.com
Galilee Peaches is an interdisciplinary artist that studies touch and the gestures found within the home to learn how we build and shape intimate space. The exhibited work includes gouache paintings that follow the echo of the body and depict the home as a container and platform. In addition, a recent series of artist books that discusses acts of retrieval, disruption and amendment. She reflects on the ethics of archaeological excavation and the loss of bodily autonomy after death through found imagery and poetry. She received her BFA in Studio Art from the University of Wisconsin-Stout in 2018 and lives in Minneapolis. In the next year, she has solo exhibition at FOGSTAND Gallery and Studio in Taiwan and will be a 2020 resident at the Grand Marais Artist Colony.
galileepeaches.com
Emily Swanberg is a Minneapolis, MN based sculptor and builder who is influenced by the materials and processes inherent to building and architecture. Her work investigates in the intimacy of building labor and the ways in which it links to larger systems of power and authority.

She earned her MFA from University of Minnesota - Twin Cities in 2019 and her BFA in Studio Art and BA in Psychology from Bethel University in 2016. Her work has been included in various exhibitions, including the 2018 Masters Show at Duncan of Jordanstone College of Art and Design in Dundee, Scotland. She has also received various honors and awards, including the 2019 Outstanding Student Achievement in Contemporary Sculpture Honorable Mention Award from the International Sculpture Center.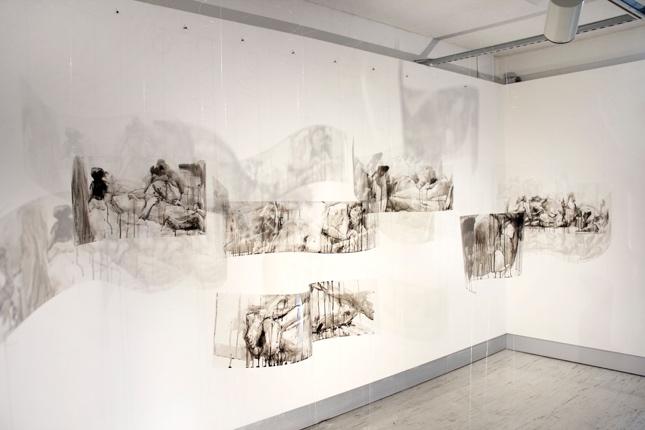 Yijia Li is a painter from Shanghai, China, and moved to Minneapolis in 2015 after she received a BA in painting at Fine Art School, Shanghai University and three years of studying and working as an artist and art administrator in Shanghai. Since her arrival in Minnesota, Yijia finished the graduate program at Minneapolis Collage of Art and Design and received an MFA in studio art in 2017 and has exhibited widely throughout the Twin Cities. In the art work, Cross the Water, Yijia's exhibit is a new step of her studio practice that focuses on exploring the space beyond the painting and drawing surface and creating an environment as if the audience were in a landscape painting. Seven pieces of ink on Duralar paintings hang from the ceiling as waves. The slippery and transparent surface Duralar allows the light to get through and project shadows on the wall. For some paintings, figures are precise on the sheets. For other paintings, it may be hard to see what's going on from the paintings but will be discovered more from the shadows.